In this day and age, it should be relatively easy to work out whose music belongs to whom. Sample included on a track? It should be a simple matter to prove it was cleared – simply supply a copy of the license to the distributor. Or maybe new remixes of an old song? Again, paperwork from those who authorised the remixes could easily be uploaded for reference.
Earlier this month, a new remix of "Silver Screen (Shower Scene)" was released. The original came out in June 2001 on City Rockers – and Discogs states the song was produced by Felix Da Housecat and Thee Glitz, whilst vocals were provided by Miss Kittin. Felix Da Housecat is Chicago DJ Felix Stallings Jr whilst Thee Glitz and Miss Kittin are, in fact, French DJ Caroline Hervé.
The song was previously been remixed in the early 2000s by FC Kahuna, Laurent Garnier and Thin White Duke. David Guetta created his own rework and that was released earlier this year – and whilst it's certainly not to our taste, Miss Kittin herself verified on her Instagram stories earlier today that Guetta's version was officially cleared.
Which is more than she claimed about a remix – well, they say remix, we say badly chopped edit – by Italian techno DJ Deborah De Luca. Yes, this would be the same infamous virologist Deborah De Luca who proclaimed in May 2021 that the pandemic was over.
She seems to be deeply irritated about not being credited on this version, and it isn't entirely clear why.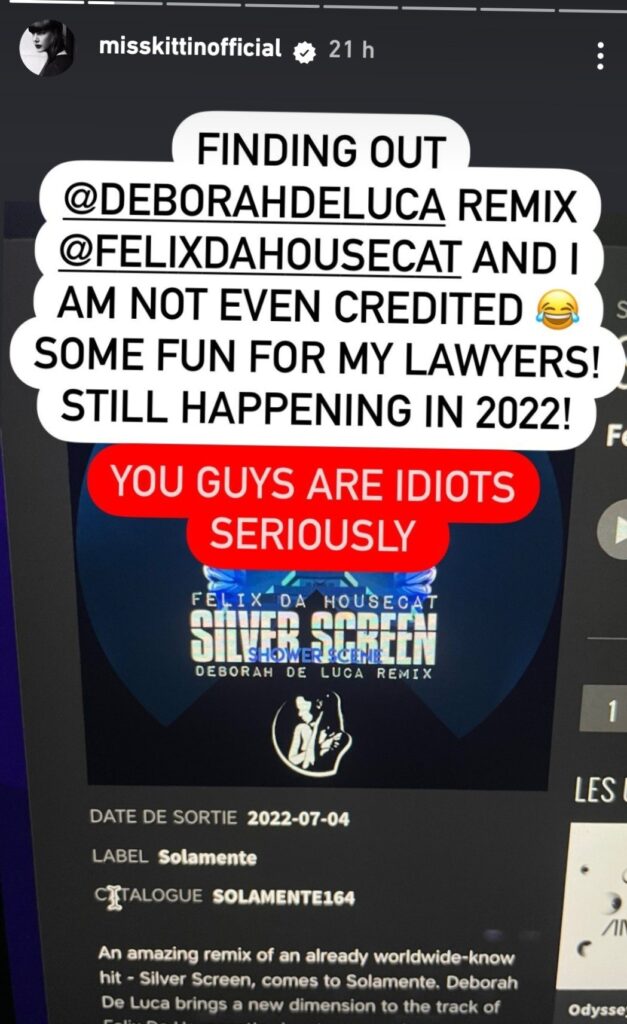 So how did this happen? Deborah De Luca, who owns the Solamente label, and Felix Da Housecat have been contacted for comment by Ears To The House, but have not replied at the time of publication. However, neither Felix Da Housecat, Deborah De Luca or Solamente's social media pages have made any reference to the release.
This contrasts with the February 2022 release of David Guetta's version, which was heavily promoted by everyone except Felix Da Housecat – it's unclear exactly why this is, but industry sources have often cited to us that artists don't routinely promote material they haven't approved.
Ears To The House will probably get back to this one soon. The releases remain online at the time of writing…