It's been a busy week here at Ears To The House – so for something a little lighter on a Friday, we thought we'd return to a story we first covered all the way back in May 2021. Cast your minds back – Defected had just released a House Masters compilation with Todd Edwards, having previously done a deal to acquire the rights to a large chunk of his discography.
To help further tap into the sense of nostalgia, Simon Dunmore – you know, the boss at Defected until Wez Saunders took over last year – commissioned a "limited edition" of "Jesus Loves UK Garage" T-shirts. This was the slogan brandished on a shirt which Edwards wore at his first ever British appearance – held at Romford's Time & Envy in 2003.
Unfortunately, takeup of the commemorative T-shirts has either been much slower than expected, or someone at Defected accidentally added some extra zeroes to the order. Because it's only now, just over two years later, that they've finally sold out…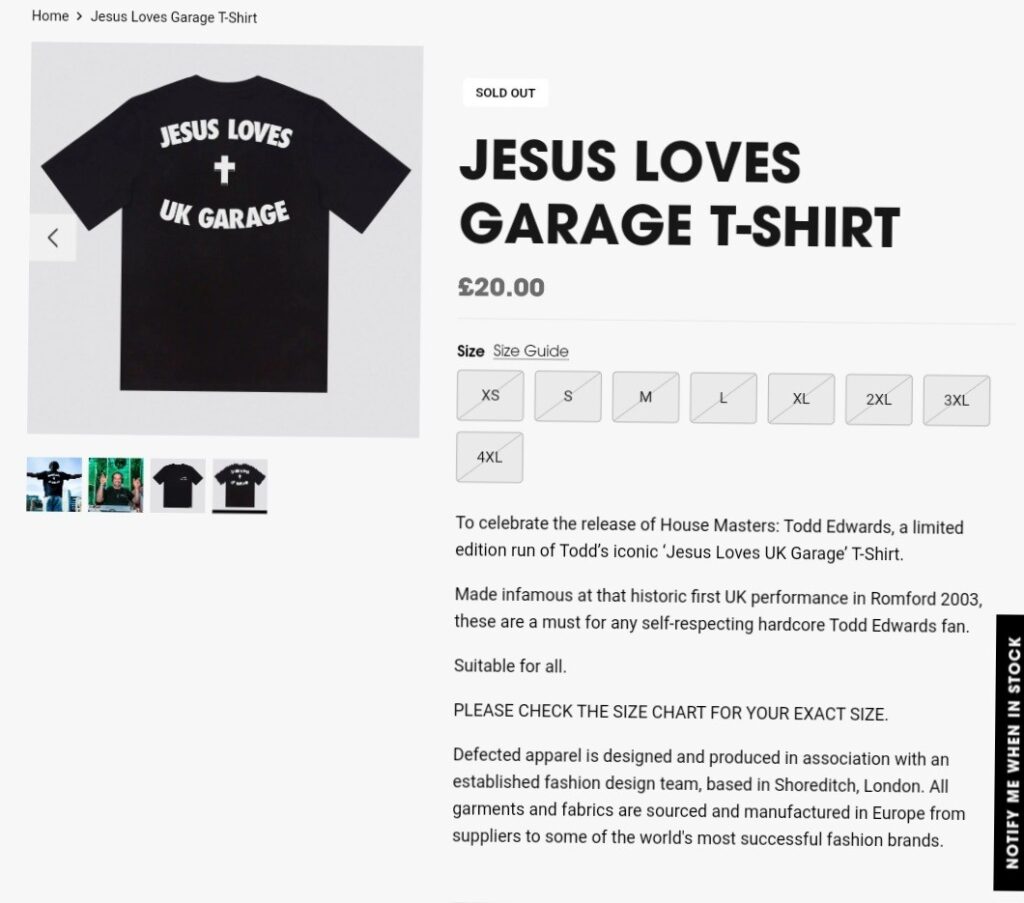 So what does this mean for the alleged curse of Shoreditch? Regular readers might recall a story we published under our original alias in December 2021 – and it's a theory that the Ears To The House team finds as funny as it is weirdly plausible.
A reader emailed us to explain that Defected's plush offices on London's Curtain Road are near the site of what used to be a playhouse called The Theatre, built by James Burbage in 1576. He believes spirits from the area's past are very active there – and that Todd Edwards has somehow done something to annoy them, resulting in the aforementioned spirits jinxing the shirts.
Does the fact the T-shirts are sold out now mean that the suspected curse has been lifted? It remains to be seen – although sadly, what Todd Edwards supposedly said or did to anger the long dead of Shoreditch will probably never be known…