Back in May, Ears To The House posted an article about Derrick May's attendance at the Movement Electronic Music Festival in Detroit. As you might recall, Kevin Saunderson was flamed online after posting a number of pictures on social media where he posed with the 59-year old occasional DJ.
Incidentally, we noticed there was no sign of those photos on Saunderson's Facebook page when we checked yesterday. By the looks of it, they were removed some time ago – with no defence of their publication offered, nor an apology for the many fans he'd angered by doing so.
We also pondered why Saunderson had his photo taken with May, but Louie Vega – who just happened to be at the festival – didn't. Both pictures with Saunderson were taken at exactly the same place, yet May was absent in Vega's photo. Had Derrick May just popped over to the toilet, as we speculated at the time?
Unless someone present can confirm or deny that, we'll probably never know. What is known, however, is that Louie Vega considered Derrick May to be "a barrel of laughs" as recently as 2018. And don't take our word for it – here's Louie Vega saying those exact words on his own Facebook page…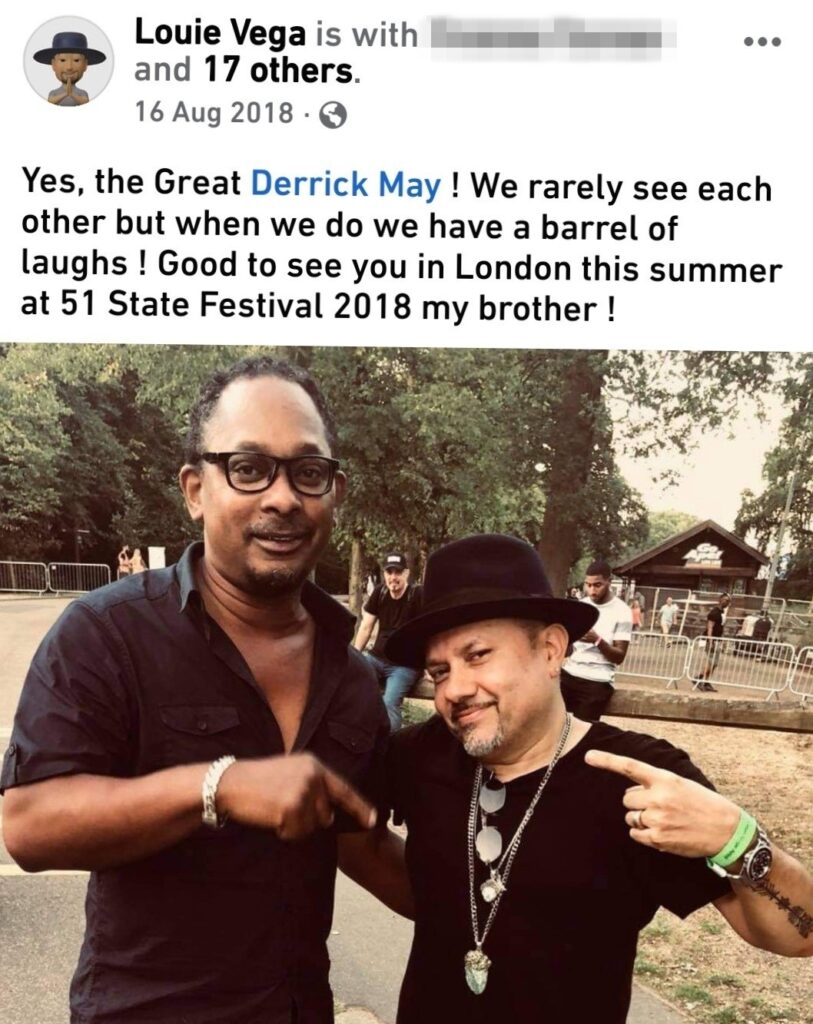 Might it be possible the two men did meet up at Movement Detroit after all? Neither men was playing a set at the festival, so they wouldn't have been obliged to be on stage. One is a man with a busy touring schedule and the other is Derrick May – so heaven only knows what they would have in common these days.
But in a sign that Vega doesn't feel quite the same about his old friend anymore, no photographs of the meeting were published online. Since Vega usually wastes no opportunity on social media to name drop about what important person he's been hanging out with this week, May should probably take this as quite the insult.