As Ears To The House was writing about as recently as yesterday, DJs typically used to get noticed back in the day through one of two methods. They would either spend hours and hours honing their turntable skills to get those gigs in, or they'd concentrate on making exceptional tracks and remixes. Nowadays? A big social media following sometimes seems enough to get there.
Now, DJ mix competitions have existed for decades – a certain Yousef Zaher from Liverpool started out his career after winning the Bedroom Bedlam competition in Muzik Magazine in 1997. And although remix contests have increasingly become a standard part of the dance music world, DJ mix competitions do sometimes emerge.
Here's one of them, courtesy of Quantize's very own DJ Spen. The man himself – real name Sean Spencer – started out in hip-hop in the 1980s before joining the Basement Boys in the following decade. Remember the infamous "Gypsy Woman (She's Homeless)" by Crystal Waters? He was there when the Basement Boys did the mix.
Anyway, do you fancy playing a set at the Ministry of Sound nightclub in London? He's offering two people the chance to do so, and posted the details on Facebook…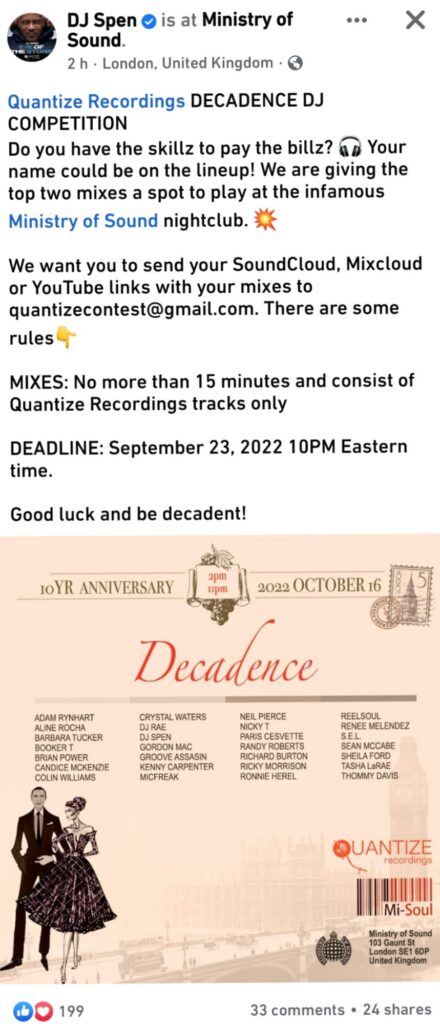 So you have an absolute maximum of 15 minutes to create a mix which can be described as decadent – and only uses any one of the nearly 400 releases on Quantize Recordings. It's a curious brief, if ever there was one – Ears To The House understands this is partly because of the risk of Soundcloud inadvertently taking down other DJ mixes for the contest.
And seeing a huge bulk of the label's output has Spen involved in some way, he's likely to be reading his name in an awful lot of tracklists within a few weeks. Exactly how long your slot at the Ministry of Sound would be isn't specified – but if you do fancy playing, perhaps this is the contest for you.
At least it'll only take 15 minutes to do the mix…