Ears To The House is sometimes asked whether we would run stories that other press outlets would not. Those people pose a daft question, mostly because that is precisely the point of why Ears To The House exists – "writing the stuff about dance music others won't" is literally our self-explanatory tagline, after all.
Which is why today, we're publishing not one, but two stories about Mr Ronald Michael Carroll from Chicago – better known in dance music circles as Ron Carroll, the 55-year old DJ, producer and singer. If you've been a fan of house music for a while, you have almost certainly heard him sing – but right now, the man himself appears to be struggling to find his voice.
The timing of this mysterious silence from the man once dubbed "The Minister Of Sound" is highly curious. Last October, new remixes of "Lucky Star" appeared by long-time producer Jay Vegas on Hot Stuff – also owned by Vegas. Ron Carroll sang on this 1999 release by Superfunk – then the French trio of Fabrice Texier, Hamdi Hassen and Stéphane Bonan.
However, anyone taking a look at the new release might have noticed something was missing…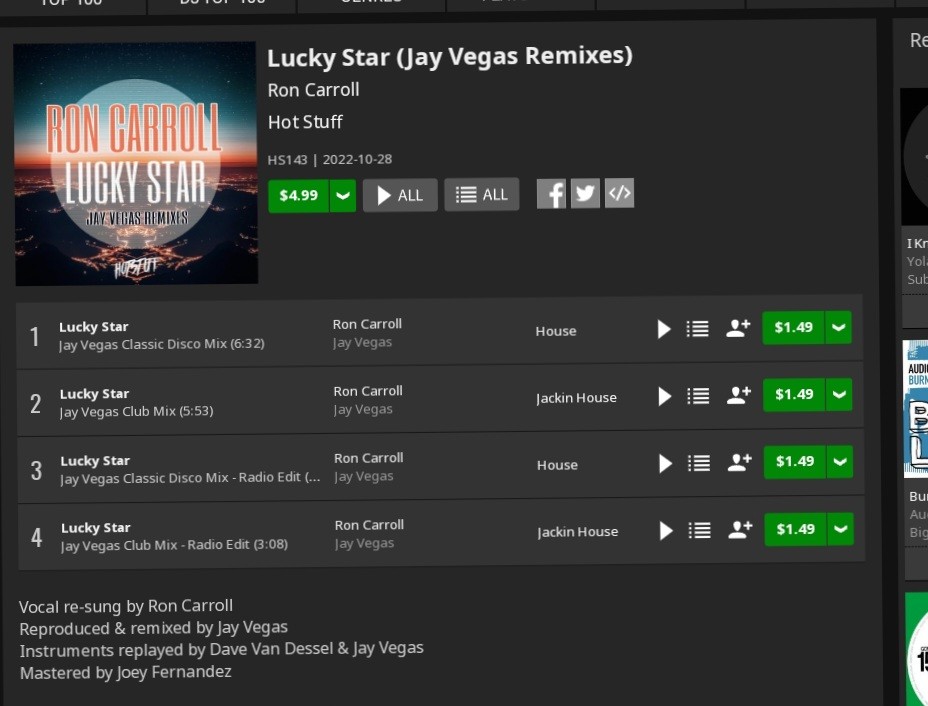 That's right – there's no mention anywhere of Superfunk. Now, we've had it confirmed that they weren't involved with these new remixes – and we've also been told that legal eagles in France are getting involved over the matter. It obviously remains to be seen how this plays out, but at the time of publication, the new mixes remain available to download and stream.
Elsewhere, Carroll appears to be persona non grata in the UK at the moment – and all over an allegation of having taken just under £4000 from Karen Scargall, who formerly headed the Deck-O-Dance DJ agency. Having agreed to do three gigs across Britain, he pulled out at the last minute – Scargall paid back the promoters in question out of her own pocket.
The incident is alleged to have happened in October of last year – and nearly six months later, Carroll has not repaid a single penny of the money. Scargall is a single mother who lost her business as a result of this episode – indeed, Carroll refused to engage after this episode until a friend of Scargall revealed the situation publicly.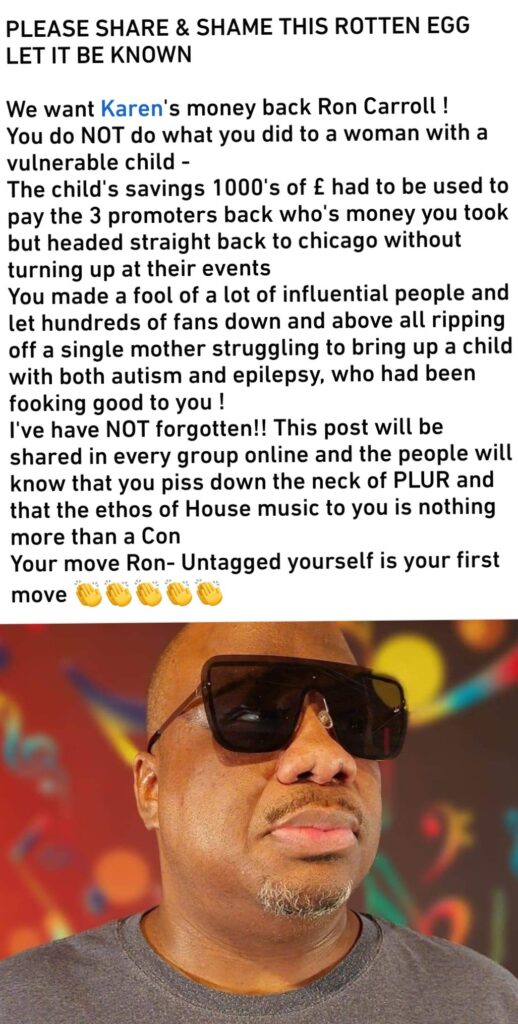 At this point, Carroll got in touch with both Scargall and a number of people who had shared the post – one who spoke to Ears To The House on condition of anonymity shared the exchange and simply commented "Ron Carroll's main priority was getting me to delete what I shared. He wasn't best pleased when I told him I wouldn't.".
Ears To The House reached out to Ron Carroll ahead of publication to see if he wanted to make any comment. As of this morning, he hasn't replied…