Late last Friday, the sad news broke that Paul Ryder of the Mancunian band Happy Mondays had died at the age of 58. The story was covered in numerous outlets, such as BBC News, The Guardian, ITV News – and by Mail Online, who managed to claim he was 57 rather than 58.
However, spare a thought for those at Resident Advisor who managed to run a headline on their site and across their social media pages last Friday night – in which they managed to get the age of his untimely death quite badly wrong…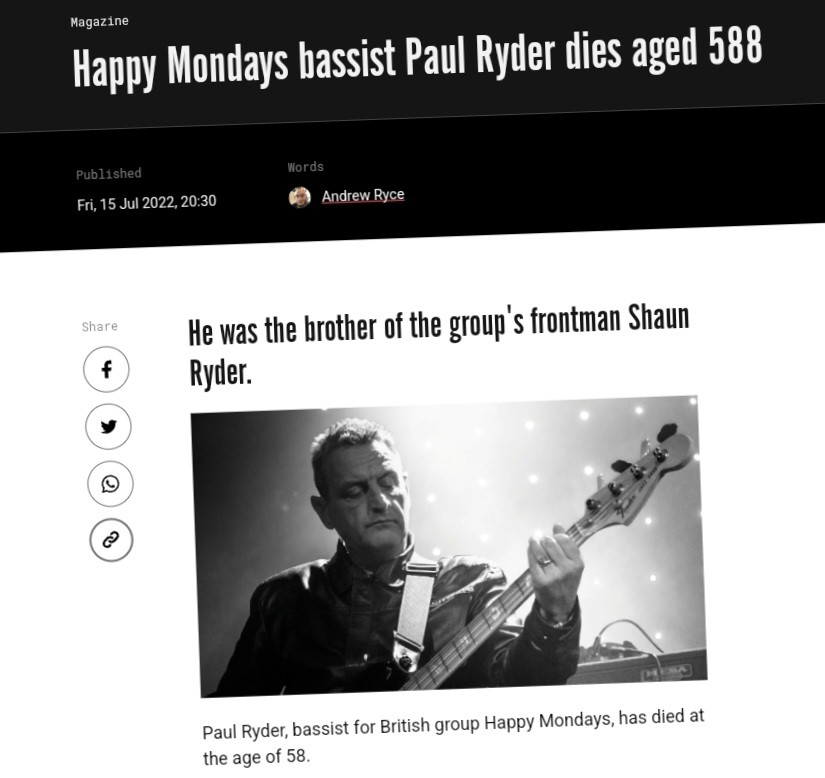 Yes, you really did read that correctly. For a time after Resident Advisor published their report, their headline claimed Paul Ryder had lived to the grand old age of 588. If that had been correct, it meant Ryder would have been born in 1434 – and witnessed the Tudor era, the Great Fire of London, the Victorian era and two world wars.
In total, the error remained online for some half an hour before someone noticed – and hurriedly changed it. And naturally, of course, there was no acknowledgement of the initial error or an apology – any references to it anywhere on their site or social media pages were quietly expunged.
Now, Ears To The House aren't completely devoid of sympathy – we accept mistakes can, and do, happen. However, Resident Advisor can and should do better – especially since they perceive themselves to be the industry leader. Remember that Whitney Wei, their editor-in-chief, is on a self-proclaimed mission to "raise the calibre of music journalism" – yet her site continues to make these rookie mistakes.
This is an organisation which was bailed out to the tune of £750,000 a few months into the pandemic. Yet whilst they've been on a hiring spree over the past year or so, there seems to be one vacancy which never appears – namely, one for a proof reader…