Correction – the original version of this article claimed that Jeff Mills had never played with any of the Belleville Three. This is incorrect, as this article from our own archive – detailing his appearance with Derrick May in Melbourne some years ago. Apologies for the error.
---
Last week, Juan Atkins cancelled his appearance at Camden's Jazz Cafe in north London. The announcement was made on Wednesday, so it had nothing to do with the death of Queen Elizabeth II on Thursday evening. Ears To The House sources told us it was due to health reasons.
Our deep respect for Atkins is something we have made clear many times, so we won't be divulging private details about his health – but we do have a question. Will Atkins be well enough to do the Cybotron live shows scheduled in London for October 29th at The Beams and November 12th at FAC 51 The Haçienda? Only time will tell.
But one person definitely not cancelling dates, in contrast, is Jeff Mills. He seems to be busier than ever this year, and has now added another UK date to his tour schedule. On October 14th, he'll be appearing at the very grand sounding World Headquarters in Newcastle – and he's got a six hour slot entirely to himself!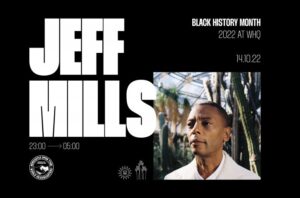 Does Ears To The House dare ponder over the question of why Jeff Mills keep his distance these days from Juan Atkins or any of the other so-called Belleville Three? It seems strange to us that Mills has been travelling around the world for decades and still frequently releases new material, whilst Juan Atkins and Derrick May have released no new material for many years.
Mills has also been known to simply make new records entirely on the fly at his shows, utilising his Roland TR-909 amongst other things. Whereas we're not aware of a single occasion where the members of the Belleville Three did so – and they have certainly never done so collectively.
For a scene which is so tribalist about protecting itself, many of its main players collaborate surprisingly little with others in the same scene. Food for thought, isn't it?
Due to the ongoing period of national mourning in the UK, Ears To The House is running slightly differently for the time being. DJs Playing Badly will return next week.