Believe it or not, but there was a time when the distinction between underground and mainstream was a thing. Admittedly, it was never as clear-cut as 90s dreamers portayed it – but for example, whilst techno remained distinctly underground, the likes of David Morales were basically the EDM superstars of their time, frequently working with pop artists.
Whilst those DJs did receive flak from the dance music press occasionally for the practice – try out the Armand Van Helden remixes of "Cotton Eyed Joe" by Rednex for size – it was generally accepted there had to be some crossover of the two. But what about these very confused days we live in?
We'll stay away from tedious debates – usually to be found on Facebook groups or Reddit forums near you – on the topic. But there are others who seem to believe that everything is underground now. What else could possibly explain the latest review from Resident Advisor, dance music's answer to a question no one asked?
They decided to review an album from an up and coming artist out of Australia, who's predicted to have big things coming up in the future. Her name? Er, Kylie Minogue…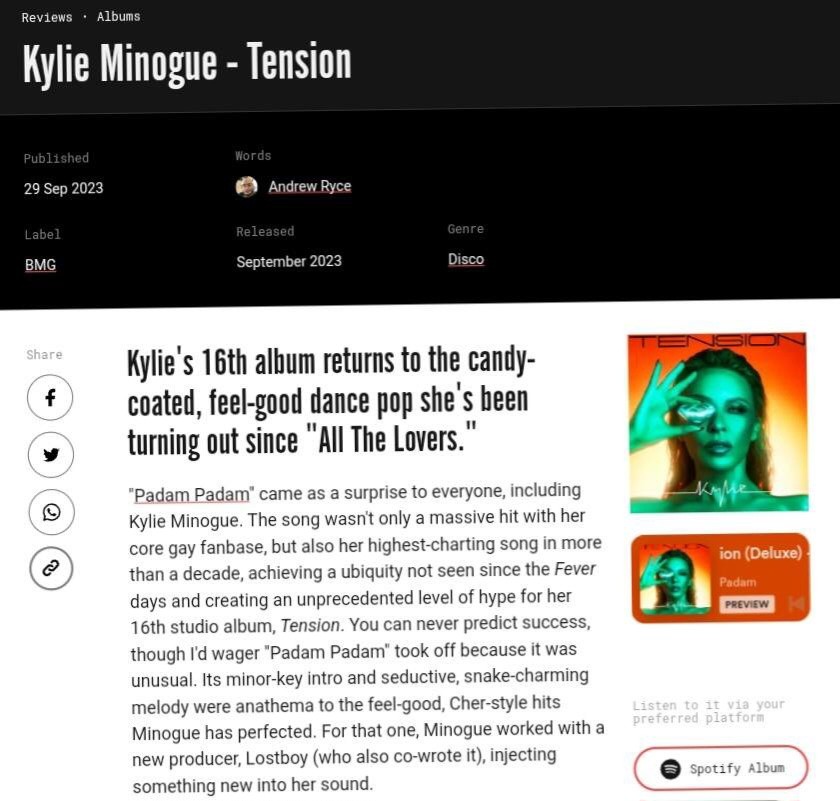 In his review, Andrew Tyce waxes lyrical about how "she can make magic out of the most innocuous material she's given", and praises "the… album's fluorescent, high-pitched aesthetic to properly ecstatic highs. His only criticism appears to be Minogue apparently doing a rap on one of the songs, describing it as "awkward".
Unfortunately for Resident Advisor's bright new hope for the future, they haven't done their research. Had they done so, of course, they would have discovered that Minogue's career in music goes back to around 1987 – and that her work has also been remixed by numerous names in dance music already.
So what explains the appearance of this review? Well, it might be to do with the fact this album was released by a small Berlin-based label called BMG – an underground record label which made a modest €600million in 2020 and employs a skeleton staff of around 970.
Editor-in-chief Whitney Wei's mission to raise the calibre of music journalism continues…