Dance music is in a seriously strange place, even by its own standards. Since almost the beginning of the genre, parts of it have been too eager to look at the past. This was fine when producers were looking back to try and innovate – but when hardly anyone seems to be trying to conjure up new moments, this becomes a problem.
The result? Very little quality new material is being released right now. Labels and artists prefer to find solace in remixing an older, more well-known record, for a quick cash grab. And certain remixers are certainly taking full advantage of this trend – just take a look at the recent discography of Michael Gray, a veteran British producer who used to be one half of Full Intention, to see a particularly glaring example.
And he's not the only old-timer to realise the power of nostalgia – pandering to a belief that everything in the 1990s was better than it is now. Take Luis Ferdinand Vega Jr, better known as Louie Vega – who spent years working in the very successful duo of Masters At Work, then spent many years distancing himself from his work in the very successful duo of Masters At Work, before now once again parading his work in the very successful duo of Masters At Work.
Anyway, Vega has confirmed that Lost Tapes 10 – the latest from an apparently endless collection of unreleased Masters At Work productions from the 1990s – will be released on Friday, with a track called "Bump That Whistle"…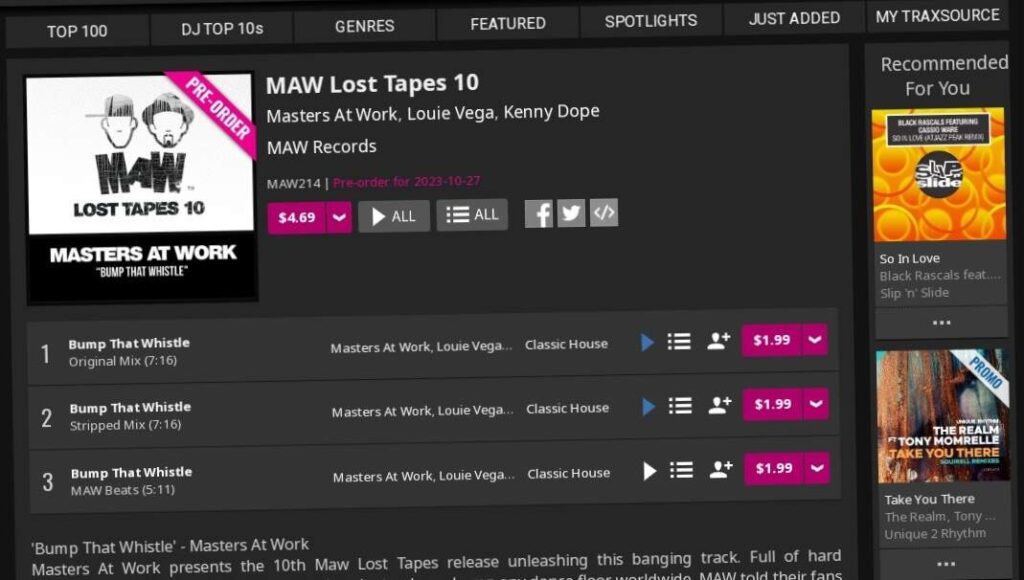 This all begs the question – just how much material is there within the Masters At Work archive that still could be potentially unearthed? A friend who has known both men since the 1980s spoke to Ears To The House on condition of anonymity – and explained, "There could be a hell of a lot more."
"Louie and Kenny went through a time in the early to mid-90s where all they did was work and work. They could sometimes spend up to 20 hours a day in the studio, just endlessly making records. If you add up the unreleased stuff, there's a lot there. If you also add the rejected remixes, of which there were more than the public know about, that's even more there. The Lost Tapes series could run for at least two years, if not longer."
"I haven't spoken to Kenny about this, but I do know that Louie is absolutely loving seeing these tracks get some love and attention. I think it's great that there's an audience out there, new and old, discovering this music together. It's not something that happens much these days.".
Is there a prospect of any new material fron the duo next year? The friend just says "It's possible. The two do like getting together in the studio. They've always got a lot of ideas. It's just a not so simple matter of logistics and time. Both men have busy schedules, and Louie just seems to get even busier as he gets older.".
We shall see…