As Ears To The House said only yesterday, we increasingly feel like a gun staring down at a barrel full of fish. It's just so ridiculously easy at the moment to find someone in the dance music world doing something which deserves closer scrutiny.
One person who we've previously looked into closely was Danny Rampling – the okay-ish DJ from a long time ago. But since the pandemic came along, he seems to have turned into a full-time conspiracy theorist – ranting about everything from coronavirus vaccines, the importance of using cash, and even 15-minute cities.
So what's he up to these days? Well, he's got himself a bit of work lined up – at the Freedom Music Festival. It's being held in a field in the southeast of England – the location really is that vague – and the flyer was presumably designed on Juan Atkins's computer…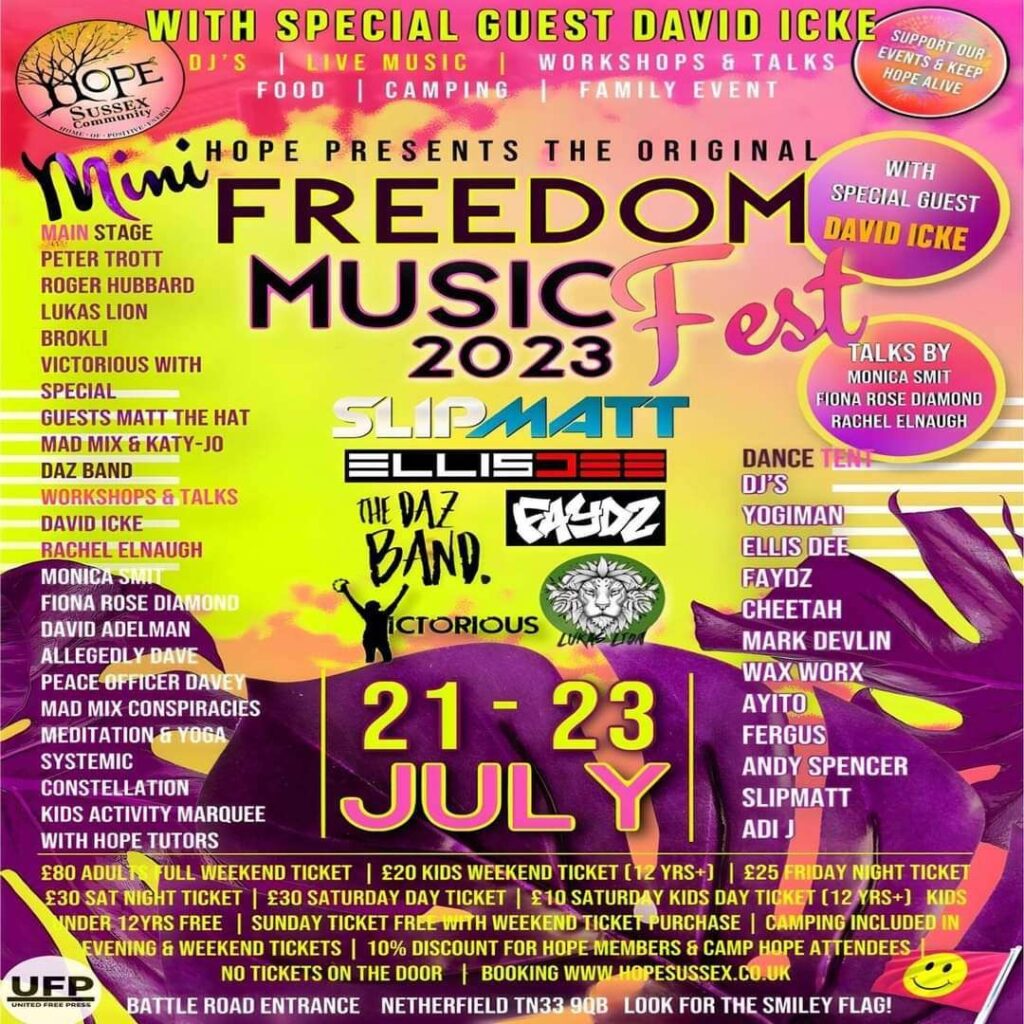 But the hideous flyer is far from the most objectionable thing with this event. That honour is split between two things – the first is the involvement of Hope Sussex, which Ears To The House dissected last year.
For the second, we combed through the list of those making special appearances – and you won't be surprised to discover some questionable views. Take, for example, Monica Smit – an Australian who rose to notoriety by campaigning against the government's response to Covid-19.
Daily Mail Australia reported in May that she was "begging older Australians to give her their inheritance to save her conspiracy-based movement from bankruptcy". Elsewhere, Fiona Rose Diamond was prosecuted under the Coronavirus Act 2020 in the UK – because she went to a protest some two months into the first lockdown.
As for Rachel Elnaugh, she was previously on BBC TV show Dragons Den – and has some dubious friends of her own. In September 2022, a YouTuber called Alex Belfield was jailed for five and a half years after being convicted of stalking four people. Elnaugh wrote to Belfield in prison and published his response in a YouTube video.
So far, so bad. But probably the worst of a bad bunch has to be long-time conspiracy theorist David Icke. A man who infamously proclaimed himself to be the Son of God in 1991, he previously predicted that the world would end in 1997 and believes the British Royal Family are "shape shifting reptilians".
Early in the pandemic – whilst Danny Rampling was telling everyone that people who refused to obey lockdown rules were "a danger to us all" – Icke did an interview where he claimed there was a link between coronavirus and the 5G network. His words led to telecoms engineers receiving abuse, and communications equipment being vandalised.
And these are the sort of people that Danny Rampling is happy to appear alongside…