If there's one concept that many producers soon encounter when starting out in dance music, it's that of the remix contest. These are usually billed by the artists or labels running them as your opportunity to rework someone's song and potentially get a release on a possibly prestigious record label.
The reality is somewhat different. Whilst the terms and conditions usually vary, common factors include the fact that you won't be able to do anything whatsoever with the remix if you don't win, the right of a record label to even release the winning remix at all – or the distinct impression that they just can't be bothered paying someone to do a decent remix in the first place.
There was, of course, a time when dance music remixes used to pay quite well. The likes of David Morales, Todd Terry, MK, Armand Van Helden, and such used to get as much as $20,000 a time to remix pop artists during the 1990s – with more underground labels often still willing to pay at least $5,000 for the job.
Another duo who have certainly been paid for their remixes over the years are Above & Beyond, the trance making trio of Tony McGuinness, Jono Grant, and Paavo Siljamäki. They've been working together since 2000, and have remixed the likes of Dido and Madonna in their time – in addition to running Anjunabeats and its sub-labels.
Therefore, it's safe to say that they'd understand the concept of paying remixers for their work, right? After seeing this now deleted post by Hyperbits, who are running Jaytech's production course at the moment, we're not quite sure…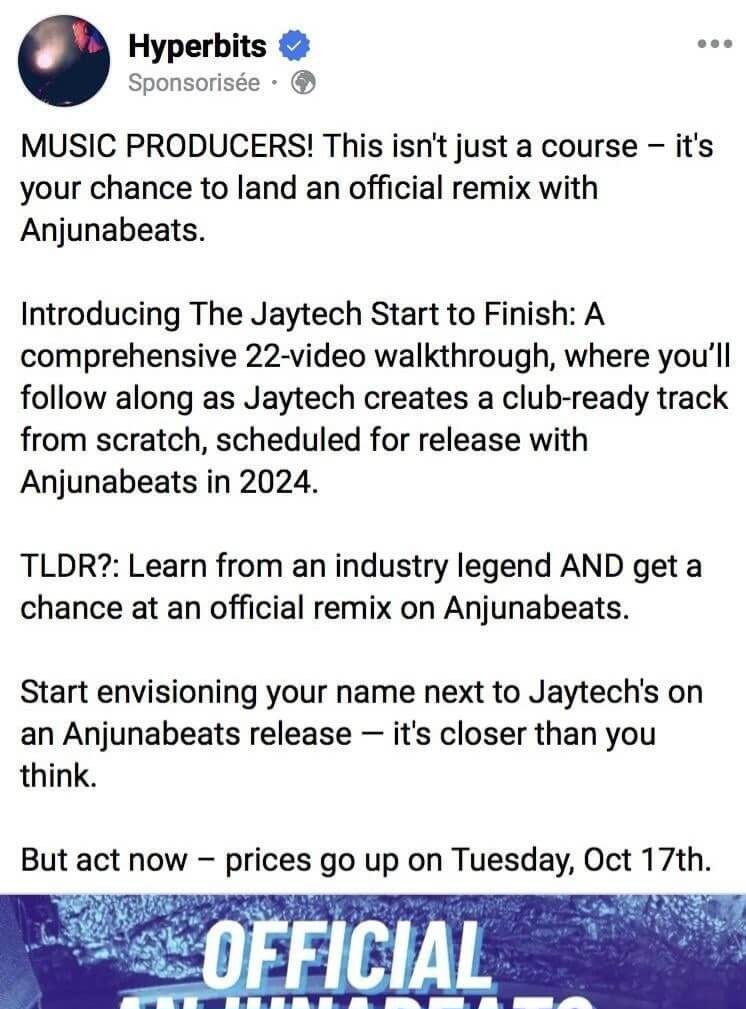 Are Jaytech and Anjunabeats seriously trying to charge people $147 in order to enter a remix contest? A number of those commenting on the original thread seem to think so, with one saying "I was actually considering this being that it's been a decade since my last remix competition, but after seeing that there's a $147 entry fee, l'Il have to pass. Time's sure have changed, and y'all are not making it any easier for independent producers.".
Hyperbits, however, are adamant that this isn't what's going on. Providing a lengthy explanation on Reddit, they say…
"Initially, our primary focus was the course with Jaytech. We connected at the end of last year and decided to offer a deep dive into his music production process, creating a course that documents the creation of an entire track, start to finish. The twist came when Jaytech presented the track to Anjunabeats (just a few weeks ago) and they were keen to sign it. That's when Jaytech proposed the idea of a remix competition, and Anjuna showed support by agreeing.

With the course as the foundation, the remix competition became an added feature to inspire participants to apply what they've learned from the course. Jaytech dedicated a month to this course, as well as crafting sample packs, synth presets, and editing videos to encapsulate his 15+ years of expertise. The fee covers this valuable content and isn't an entry charge for the competition. The focus here is to learn how to make a record on Anjunabeats vs the remix comp.

We've set a cap of 200 remix submissions, ensuring each entrant gets fair attention. Unlike many competitions that get thousands of entries, often turning into popularity contests, ours focuses purely on musicality. Entrants aren't expected to promote their work, ensuring genuine meritocracy."
Thankfully, they also admit that their online messaging over this could have been handled better – promising to be clearer in future advertising. Nonetheless, Ears To The House still isn't buying the line that "a chance at a release on a notable label like Anjunabeats can be transformative" – exposure doesn't pay the bills…