Last Saturday night, Gordo – who used to play EDM under the name Carnage and now seems to have decided he likes house music instead – was playing at the Ministry of Sound in London. It was his first ever time in the venue, and the significance of the occasion wasn't lost on him – his appearance was plugged heavily.
However, when Gordo – real name Diamanté Anthony Blackmon – came to play, he was enjoying himself a little too much. So much so that he refused to come off stage to allow time for Waze – one half of Waze & Odyssey – and Liverpool rising star Essel to play their sets afterwards. Ears To The House covered the debacle on Bank Holiday Monday and again this morning.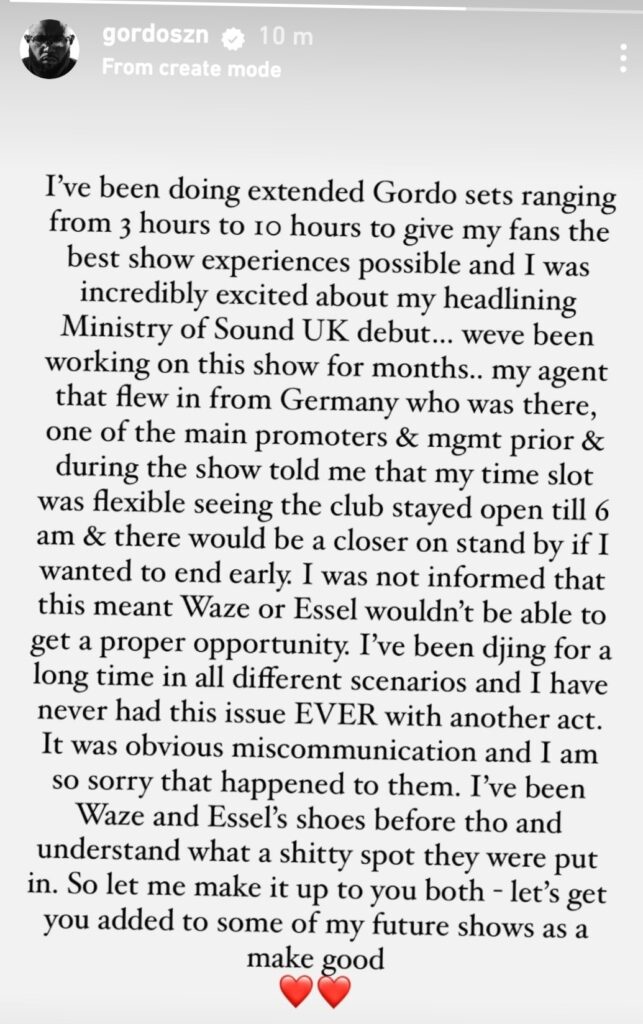 This evening, Blackmon has finally decided to comment on the situation. Posting on Instagram stories earlier, he said this…
Good. We're pleased when someone acknowledges wrongdoing and apologises – it's something which we need to see far more often in the dance music world. But one or two questions do remain. For example, why were the comments sections on his Instagram posts promoting the Ministry of Sound gig mysteriously closed yesterday? And why has it taken three full days for Blackmon to apologise?
At the time of writing, it's unknown whether either Waze or Essel have accepted or declined his offer to appear on some of his future shows…