It's been a fairly good few months for those fighting to preserve Chicago's history with house music – a welcome relief in a city that has often shown great hostility towards a genre that originated there. The site of The Warehouse – founded by Robert Williams in 1977 and where Frankie Knuckles made his name – was designated a Chicago landmark by the city in June.
Tragically, Knuckles didn't live to see this milestone – he died in March 2014 due to complications brought on by diabetes. However, Williams remains alive and well – and fresh from the landmark status of 206 South Jefferson Street being secured, he's in a buoyant mood, ready to celebrate Chicago house music's long history.
With that in mind, Williams has decided to curate a series of events, taking place at Chop Shop – just over three miles away from the original site of The Warehouse. The first of those events starts tomorrow night at 8pm – but the list of those appearing has Ears To The House more than a little baffled.
Chicago is a city with an enormous amount of homegrown talent. There's any number of people who could have been invited to make an appearance – Marshall Jefferson, Terry Hunter, and Mike Dunn are just three fine examples from the city of those still going strong today. So who did Williams choose to be the star of the show?
Take a look at this flyer, where they seem mysteriously reluctant to capitalise the first letters in the names…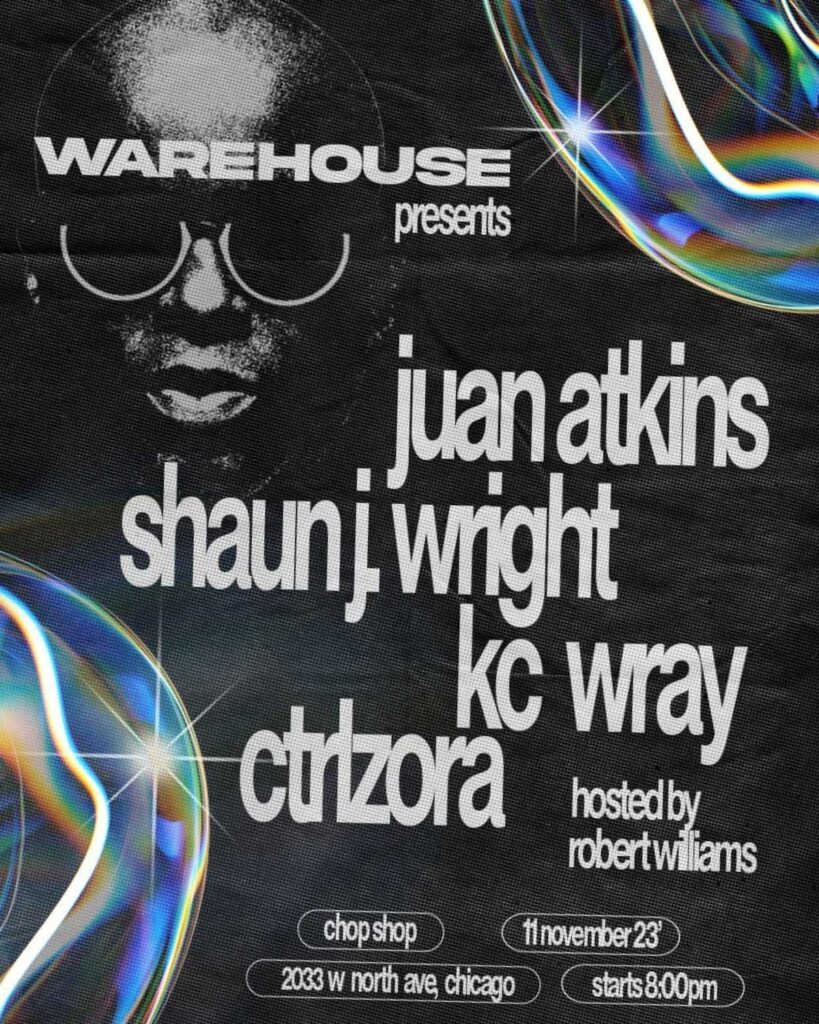 Apparently, Juan Atkins is now from Chicago. This somewhat flies in the face of everything we've been told for many years about Atkins, doesn't it? According to even the man himself, he was born and bred in Detroit – a city no less than 280 miles away from Chicago.
To the best of our knowledge, Juan Atkins has never lived in Chicago – unlike his friend Jeff Mills, who spent a number of years in the 1990s residing in the Windy City. Not only that, but Juan Atkins ridiculously claims to be the man who invented the genre of techno – and the last time we checked, Chicago was more famous for house music than techno.
So what's going on here? One possible explanation comes from the fact that the post-Cybotron work of Juan Atkins was ironically given little attention in his native Detroit – but seemed to do a lot better in Chicago's clubs and record stores. Williams would know this well – after all, he was there at the time.
But then again, perhaps the decision by Atkins to accept this gig was all decided by fate. By all accounts, he isn't best pleased at Derrick May's appearance on PBS being pulled down by the station – so maybe being nearly 300 miles away from his Belleville Three crony is a good thing right now…